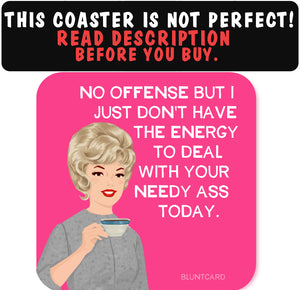 Bluntcard
Coaster-Needypink-Imperfect Product
Regular price
$3.00
$0.00
Unit price
per
READ BEFORE YOU BUY: Product IMPERFECT
This is a pressed wood coaster with a glossy finish.
This coaster has a slight imperfection caused during manufacturing.
It might have one or more of the following flaws.
Slightly different in color than other coasters of the same color.
Area/areas of missing of lightened color.
Tiny dots caused during printing.
Missed printed area close to the edge.
Slight imperfections and flaws.
Still funny, just not perfect.
---